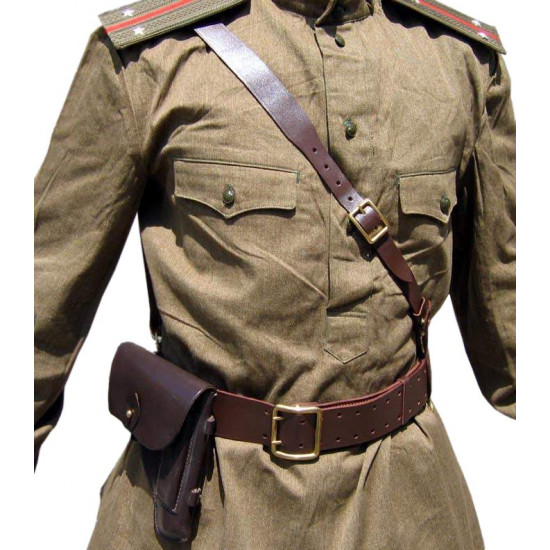 Soviet / Russian army military shirt - Gimnasterka tunic witn belts + holster
The set consists of the jacket with shoulder boards and belts with holster. The M43 Gimnasterka Tunic- shirt is made of thick fabric is usually a direct stand collar. The Workers 'and Peasants' Red Army and the Soviet Army was used until 1969 as part of the uniform. GYM shirt or tunic was introduced in the Russian army in 1862 for gymnastics. From the army comfortable and practical clothes (cheap to manufacture and fitting) carried over into everyday life. Produced civil, departmental and children's shirt.
January 15, 1943 by Order 25 for the soldiers and officers of the military tunic introduced a new sample. The uniform was similar to the shirt worn in the imperial army. She had a stand-up collar, fastened by two buttons. She wore trousers, a belt. For officers includes two breast pockets. In the soldier's tunic pockets were not provided. The cut of trousers has not changed. The main feature was wearing epaulettes, abandoned in 1918.
Stock:

In Stock

Model:

SovietMilitaryStuff.com

Shipping cost:

34.5