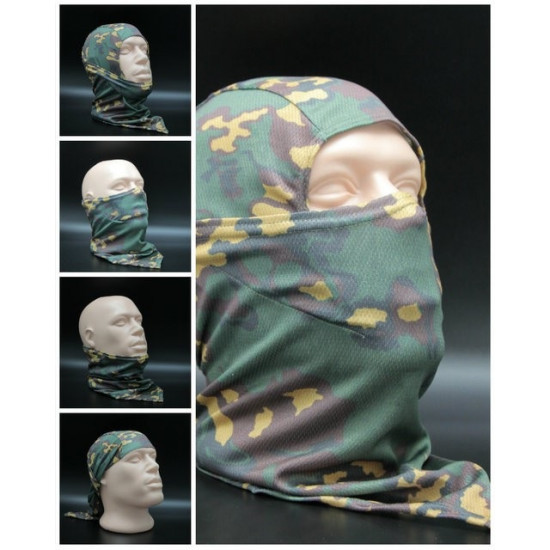 Balaclava Frog Partizan camo face mask
Balaclava assault Russian frog camo Partizan- this balaclava combines a mask and a hood, it is possible to use as a scarf or facial mask-scarf.
Light movement of the hand closes or open your face. Good air permeability, thin & soft, versatile size.
Balaclava "Storm" is a completely new approach to the elements of individual equipment. Developed taking into account the opinions of representatives of special services and law enforcement agencies.
Universal balaclava can be used as:
Balaclava;
Facial mask;
Mask-handkerchief;
Scarf.
The movement of the hand can open / close the face - this is especially important for people using a protective helmet in the high-risk area.
Pluses:
Elongated throat balaclavas for convenience of refueling the collar of the form;
Comfortable with prolonged wear;
Good air permeability;
Universal size;
Does not irritate the skin;
Hypoallergenic;
Quick-drying;
Moisture-removing;
Soft;
Thin.
Received positive reviews from:
Lovers of extreme sports;
Representatives of law enforcement agencies;
Airsofters;
Hunters;
Military.
Withstands a long exposure:
High temperatures of aquatic environment;
Ultraviolet;
Sweat.
Recommendations for care:
Manual or machine wash up to 40 degrees;
Ironing is not required.
Stock:

In Stock

Model:

SM

Shipping cost:

11.5