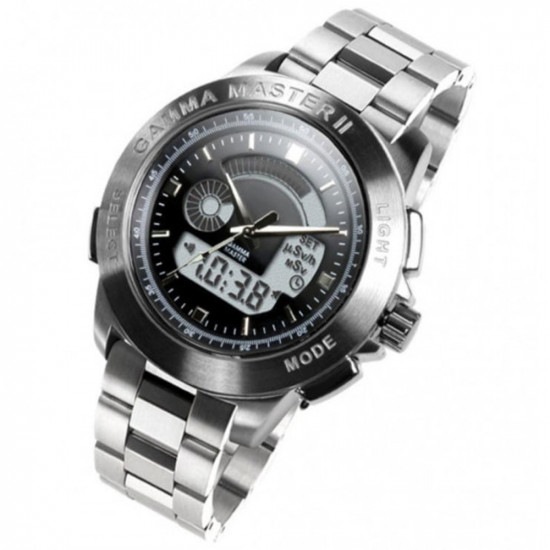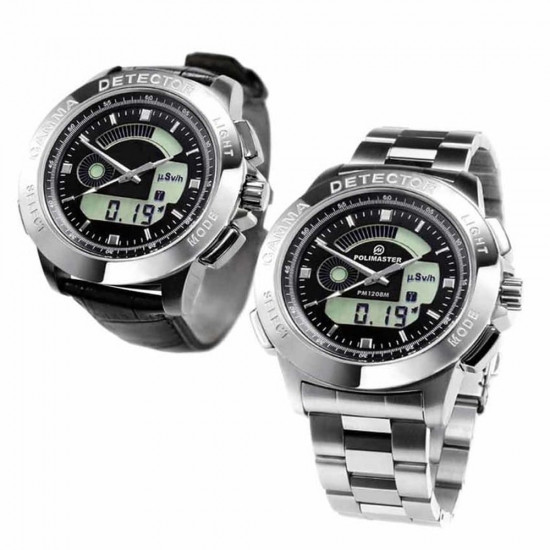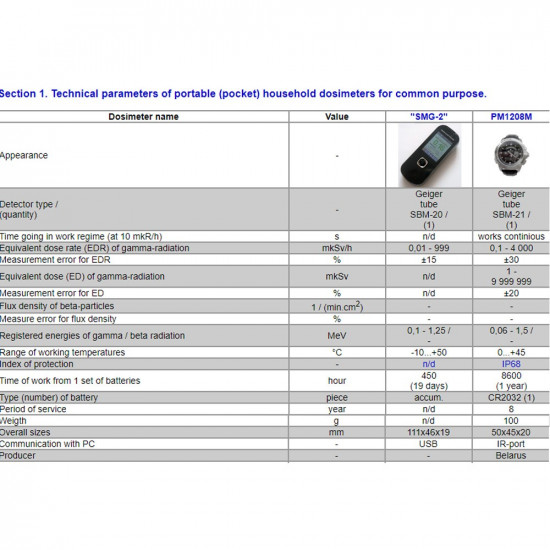 New



Russian Limited Edition Wristwatch "Polimaster" SIG-PM1208M Original Wrist indicator
Russian Limited Edition Wristwatch "Polimaster" SIG-PM1208M Original Wrist indicator
SIG - РМ1208М is out of production since 2018.
SIG-RM1208M carries out:
1) 24-hour monitoring of radiation situation;
2) Indication of the rate of the ambient equivalent dose (MED) and the ambient equivalent dose (ED);
3) Indication of ED accumulation time, audio alarm at exceeding of established thresholds by MED and ED.
In addition to the above functions, SIG-РМ1208М:
1) Is capable of storing 500 events in built-in non-volatile memory;
2) Is equipped with an infrared communication channel, which allows exchanging data with a personal computer.
The user has the possibility to set the device, set the corresponding threshold values of ED and MED, view and save the history of MED from the personal computer using the software supplied with the device. The modern design of the steel case provides water resistance when submerged up to 100 meters. Electroluminescent illumination allows easy control of readings at night. The lithium power cell SR 2032 provides up to 1 year of continuous operation.
Main functions:
1. Indication of the exact current time and date (which is especially convenient, the time can be found not only by hands but also by digital hours).
2. Alarm clock.
3. Measurement of the equivalent dose of gamma radiation (taking into account X-ray) and its power.
4. Measurement of the dose of ionizing radiation accumulated over a certain period of time (independent memory is enough to record more than 500 measurement results).
Structurally, the signaling device is made in the form of a wristwatch in a metal case, inside of which there are an electronic registration unit and an analog clock mechanism.
The density of the walls of the front and side sides is at least 1 g / cm2, which protects the detector from background beta radiation.
Above the LCD screen, there are the hands of the quartz watch mechanism, and along the perimeter of the case, there are four control buttons for the electronic registration unit and the control head for the dial watch mechanism.
Stock:

In Stock

Model:

РМ1208M

Shipping cost:

23
Tags:
Original
,
limited Version
,
СИГ- РМ1208M
,
wrist indicator
,
Polimaster
,
wristwatch
,
alarm clock
,
multifunctional
,
SIG-RM1208M
,
authentic
,
genuine
,
fully functional
,
tactical
,
accesory
,
Russian
,
special forces
,
troops
,
soldiers
,
stalkers
,
s.t.a.l.k.e.r.
,
equipment
,
device
,
gamma detector
,
watch
,
wrist
,
military